Earlier this year in April, I had the pleasure of connecting with the Massey family. I had been following a pretty interesting Instagram account for some time now and was so happy to have been assigned a story to write about the two Massey boys. After some conversations, we set up an in-person interview at a very unusual place – at the Old Anglers Inn restaurant in Bethesda. From there, the parents were going to take me on a walking expedition to the family's favorite hiking spots.
Can you believe I was conducting an interview while standing, walking, hiking, and observing nature? This was a most unusual interview, but it also ended up being one of the most satisfying to four out of five senses. (I didn't taste anything on this trip.)
I arrived at our prearranged location that day in late April. It was quite cool! After a very nice introduction, we proceeded on our trek. The boys, Sawyer and Lawson, were prepared to do the talking. At ages 14 and 12, these fine young men were prepared with enthusiasm and insight into their marvelous worlds of nature, history, education, and family adventures. I was a willing and happy observer.
The boys dutifully posed with their bikes and were prepared to go on a quick biking trek if needed. I had to take a bunch of photos in different angles to provide to Washington Parent magazine. The natural landscape of the C & O Canal (Chesapeake ad Ohio Canal) National Historical Park was just breathtaking. The boys were cheery and radiant in every photo against a lush backdrop of pale greens and the dark browns of the trees and tall rock structures.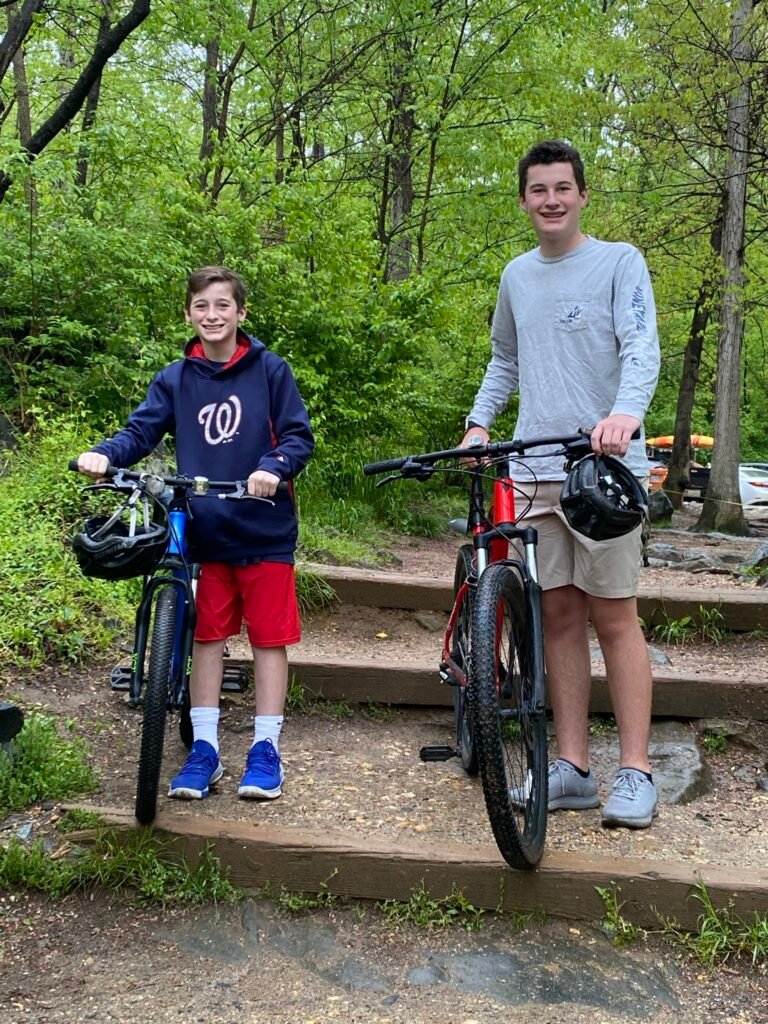 We initially sat down for a few questions and I got some basic information. We then proceeded on an informal "hike." The father, Jim, was very, very kind and respectful of my time and asked if I was willing to go on a mini hike with the family. I'm not a hiker or outdoorsy person at all, but I was more than willing to keep an open mind to learn more about our greens through the eyes of two boys.
As we proceeded on our walk, it was so nice to see the four in the Massey family acting normally and proceeding with their hike as if I were not there. It gave me a glimpse into their real lives as they explore new geographic areas and nature paths. The boys were inspired to climb rocks and they did! I saw this rock formation that looked to be probably 20 feet or so in height. To my untrained and timid mind, the thing was humongous and insurmountable. To the boys, it was a simple anthill that needed to be explored, examined, and "tested out" through climbing and reaching the peak.
I think it took them about 30 seconds to climb to the top? I don't know; by the time I got my silly camera on my phone to work, they were practically at the top!
At one point, there was a particular path that we ended up taking. It was actually the end of a loop and we weren't supposed to take it, but we ended upgoing there anyway because the parents were enthusiastic about having me explore the exact path the family took on several occasions. The mother, Emily, smelled so nice with her light perfume filling the air as we sought to go "downward" in our path. We reached a particular marker that led the walking explorers to one definite direction.
If it weren't for the Masseys telling me about this marker, I would have never known. It was a light blue arrow on a tree pointing to the left. That means to follow the path, all of us had to take a left. As we took that left, we had to literally and physically climb down about three levels of rocks. It was a drop-off in geological formation that looked scary. Jim was incredibly thoughtful and conscientious of my well-being and safety and took my hand to climb down. The last thing I wanted to do during our interview was to take a dive head-first into the rocks and deal with unflattering cuts or bruises. Let's just say I took it nice and easy!
I took one "downward" photo in which the whole Massey family was way at the bottom while I was at the top. I wanted to show perspective of what the rock formations were all about. As we finally reached level ground, I kept seeing all these beautiful nature formations. Every single frame within the eye's reach could capture a distinct photo and make it memorable. I took several photos of the boys and the natural surroundings.
When I asked the boys if they thought it was boring or repetitive to keep visiting the same park or nature reserve over and over, they surprised me with an answer I was not expecting. Both Sawyer and Lawson repeatedly told me that nature changes. Once seasons change and temperatures shift, all changes affect nature in different ways. It is in those changes that the boys find beauty. Interestingly, even though they've seen nature hundreds of times, each new time after that brings with it original and exciting visions and experiences that weren't there before. I thought their approach to nature was interesting, inspiring, and even adult-like.
Children don't typically appreciate things the way adults do. It takes a mature adult who has seen and lived through life's varied experiences a long time to really reflect on the beauty of things. For Sawyer and Lawson, that sense of intimately enjoying the grasses, the trees, the winding vines, the changes in water, the flowers, and the hundreds of tiny insects and parts of nature that we may not see, has reached them at a young age.
I was duly impressed with these young men and their ability to express themselves intelligently and thoughtfully even though they are still young boys.
After a beautiful hike, the family took me into their car and we drove roughly 2 miles to an expansive state park in Maryland. From there, we proceeded with another hike. Though there was nature there, too, the family was practically bursting at the seams wanting to show me this wicked waterfall that they knew would impress me. I couldn't imagine what it would be like, but it was fun walking over to look for it.
We happened to stop at this interesting walking bridge at Cedar Island where there were ferocious rapids underneath us. We stopped for some photos and a quick video. And then we proceeded until we reached Olmsted Island. Now THAT was a majestic place with a breathtaking view. As far as the eye could see, there were rough waters punctuated by lots and lots and lots of jagged rocks. The force of the waters caused dents and fissures in the rock. That makes the rock formations change over time. The sky was a soft blue and gray. Right underneath it, there seemed to be a pleasant green curtain of trees. And underneath that was the unforgiving series of rocks with the whitest water you've ever seen in your life.
And then it hit me, just like a can of V-8. THIS is what they called white water rafting. Aaaaah. And just as I came to that realization, sure enough, I saw these tiny orange and green thingies that looked like buttons. Those tiny buttons sure moved quickly! There were people inside the tiny buttons. They ended up being very long, colorful canoes built for one. The brave souls decided to challenge nature and see if they could ride the scary waters and go with the flow of those narrow channels.
It was quite the sight to see!
My trip with the Massey family – – Sawyer, Lawson, Jim, and Emily – – was just incredible. The family went way above the call of duty, spending nearly three hours with me literally showing me the ropes of their beloved hiking trails and nature spots. I'm incredibly grateful to them for their time, enthusiasm, and dedicated explanations to answer my many questions.
My interview with Sawyer and Lawson was published in Washington Parent magazine in June. You can see the full text here.